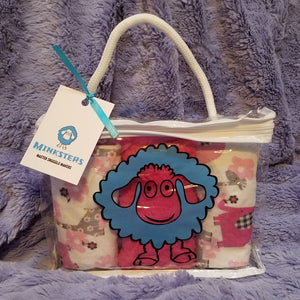 This 3-pack mix of Crinkies and Blankies will give you ALL THE FEELS! Perfect for gifts, this All the Feels SURPRISE pack comes with a surprise assortment of Blankies and Crinkies. A small carrying case is included.
Blankies are made with two layers of Minky fabric and are just right for your little one to snuggle up with. Crinkies are made with Minky material on both sides and a high-quality, toy-grade crinkle material on the inside. Crinkies are made to withstand hours upon hours of satisfying mashing and scrumpling. Our Crinkies also have a sewn-in loop so you can easily attach a small toy or pacifier. 
Blankie Size: Approximately 6" x 12"
Crinkie Size: Approximately 6" x 9"
* Please note that due to the hand-made nature of our products, sizes are approximate and may vary slightly